Accounting Spreadsheets and Bookkeeping Templates
Small Business Accounting and Bookkeeping specialists using
 Excel Spreadsheets and Templates.
'Making Tax Digital for VAT' compliant
In fact,
We pride ourselves on being able to offer you the best LOW COST and EASY to use 'spreadsheet solution' for your business bookkeeping and accounting needs. 
And, as we are accountants [rather a software company] we know EXACTLY what your business needs and we can show you EXACTLY how to get it.
So, let's get this problem solved,   
you need to 'do the books' and you want a 'simple solution',
Come on in and take a look ...
Our best selling Accounting Spreadsheets
Designed by a practicing accountant
who knows that you need to 'do the books' and you want a 'simple solution',
nothing complicated or over priced.
As accountants we tend to discourage the use of 'complicated' and 'over priced' accounting software.
Our aim is to provide you with realistically priced, easy to use and fully functional Accounting Spreadsheets and Bookkeeping Templates.
the Mr.SpreadSheet solution
An accounting system that works 'Just Fine' for small businesses and the self employed.
The Mr.SpreadSheet range of Accounting and Bookkeeping spreadsheets could be
'just what you are looking for'
But wait, that's not all we do ….
Here are 4 other GOOD reasons why we stand out from the crowd
1. We are practicing accountants
2. Our products were all designed for the use of our own clients.
3. We will show you EXACTLY how to keep your records [and save on fees]
4. Finally, our support is second to none
Not only that,
We provide you with a simple 'step by step' guide to get you 'up and running'.
and
when you buy our products you get full access to our support library …
and
you will receive our newsletters containing relevant small business insights …
You will not be disappointed.
So, let's dive in ...
and take a closer look at our products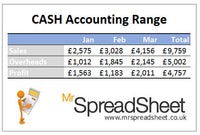 Cash Accounting Spreadsheet
is available in 3 versions ...
1. For Non VAT Registered businesses
2. For businesses using Standard VAT
3. For users of the Flat Rate VAT Scheme
Cash Accounting Spreadsheet
let's look at Cash Accounting ...
what is it ?
and why should I use it ?
Quite simply you record your business transactions ONLY when you pay or receive money. Otherwise known as CASH Accounting.
This is the simplest way to maintain your accounting records and is great for small business owners.
or should I use the EASY Accounting products ...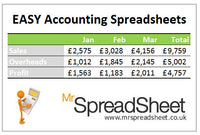 the EASY Accounting range
is available in 3 versions ...
1. For Non VAT Registered businesses
2. For businesses using Standard VAT
3. For users of the Flat Rate VAT Scheme
Easy Accounting Spreadsheet
Is the EASY spreadsheet right for me ?
The EASY range is more suited to small businesses who need to use the 'Accruals' method of accounting.
So, rather than recording sales receipts when you receive the money, you record the transaction when you 'Raise the Invoice'.
and
you record purchases not when pay for them, but when you are invoiced by your supplier.
This is our most popular product as it also incorporates all of the features in the Cash Accounting software.
or, is the Professional range more suited to your needs
Our most advanced and comprehensive system, ideal for those businesses who have a good understanding of accounts ...
the software caters for Accounting Journal Entries, has an Opening Trial Balance routine as well as comprehensive Profit and Loss and Balance Sheet reports.
Simply great for bookkeepers and accountants and those with good bookkeeping skills.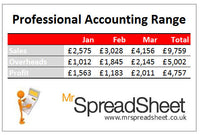 What do our existing customers think of our products
Keep producing the accounts spreadsheet, its spot on ! It enables me to run my own accounts all year (I'm a civil engineer). My work is then handed over to an accountant, who produces the companies house submission. Works very well !

[Tony Gee TGP Construction Services Limited, using our products for the past 7 years]
Just thought I'd drop you a quick email to say many thanks for the amazing spreadsheet. I have just come back from a meeting from my accountant who was very impressed with the spreadsheet you have created. They are a fairly large accounting firm based in the Scottish Borders and have seen many accounting spreadsheet systems used by their clients. My Accountant said it was the best he's ever seen and that if he had any future clients seeking a similar system he will give them your website address.

Brenda Grieve, Director, [REBZ Ltd using our products for the past 6 years]
for what its worth..I have dabbled with many online accountancy progs, QuickBooks, Xero and the like but I have to say that your spreadsheet is the best one I have ever encountered (in 30 years). Easy to use and adapt to a specific business, even for an accounting and figures idiot such as myself, and it is very easy to read in terms of seeing exactly where you are at a given point in time. Well done!

Stuart Fitzsimmons MNIMH (Medical Herbalist) - [Plantasmogorical.com, using our products for the past 3 years]
Thanks, you are the only person that's managed to make any sense out of this MTD so far.

Mike Bradbury [Mike Bradbury Ltd, using our products for the past 9 years].
Reacting to our MTD product launch - Thanks so much that is great news…I did not fancy the prospect of having to get used to a completely new system!

Lynn Haigh [Bundle of Sticks Ltd, using our products for the past 8 years]
Your product was chosen by my other half who ran the accounts for a large charitable organisation, the choice was due to the simplicity and no nonsense approach of the product, so for me not having all the time in the world to look at numbers it's very easy to input day to day transactions and see exactly where I am.

Chris Sudall, Director, [The Dive Shop]