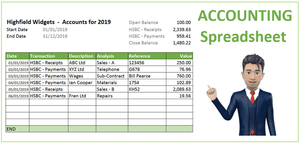 Free Accounting Spreadsheet
YouTube Video
Our FREE Accounting Spreadsheet is great for recording your small business bookkeeping transactions.
This FREE Accounting Spreadsheet is based on our YouTube presentation
Accounting Spreadsheet [Excel Template] Create it in 15 minutes
where we design a simple Accounting Spreadsheet using Excel.
You probably don't like complicated formulas and you probably don't want to spend hours designing your own. So this accounting spreadsheet template should be ideal for you.
The simple design allows for both Income and Expenditure and maintains a running balance of your business bank account.
The accounting spreadsheet can be used for weekly, monthly or even yearly accounts.