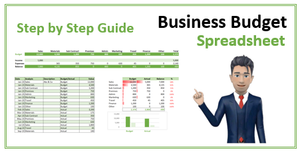 Free - Business Budgets Spreadsheet
YouTube Video
Manage your Business Budgets using a simple spreadsheet.
A Business Budget Spreadsheet is a tool that helps you plan and track your income and expenses, and monitor your financial performance.
 In this spreadsheet you will learn how to:
- Create a spreadsheet template with the basic categories and formulas for a business budget
- Enter your projected and actual income and expenses for each month
- Calculate the variance between your budget and your actual results
- Analyze your budget data using charts and graphs
- Adjust your budget as needed to meet your business goals
Once completed, you will have a clear and comprehensive business budget spreadsheet that you can use for your own business or share with others.
In the course of this tutorial we will use the following Excel Functions and Formulas
SUMIFS
Conditional Formatting
Data Validation
Drop Down Boxes
Progress Bars
Charting Techniques
The final Template can be modified to suit your individual requirements