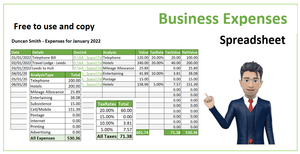 Free Business Expenses Spreadsheet Template
YouTube Video
Our FREE Business Expenses Spreadsheet is based on our YouTube presentation  
How to create a Business Expenses Spreadsheet - [ with PDF Links ]
where we design a Business Expenses Spreadsheet using an Excel.
The Business Expenses spreadsheet has been designed to help you easily record your expenses, which we split into 10 different Analysis categories and facilitate a tax calculation.
We have included a Document Link within the template that allow you to view the underlying expenses receipts from within the Excel spreadsheet.
The completed template is easy to use and can be easily adapted to suit your business or personal requirements.
The completed template uses many Excel functions, commands and techniques.
We NAME Ranges, and use the Table Creation Tool,
We create and use Drop Down Boxes,
We employ the SUMIF command.
We use the INSERT Link function