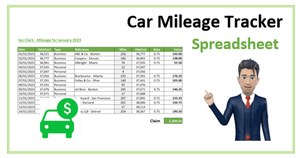 Free - Car Mileage Tracker Spreadsheet
YouTube Video
Track your business car mileage using a simple spreadsheet.
Do you need to keep on top of your business mileage ?
Can you claim your business mileage back from your employer ?
If so, then our simple car mileage tracker spreadsheet might be just the tool you need ...
Follow my step by step guide on how to create an easy to use business car mileage spreadsheet.
The spreadsheet functions and commands that I have used include:
Use Drop Down Boxes to select data
Use a simple IF Statement Use
Conditional Formating
The final Template can be modified to suit your individual requirements