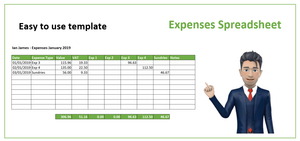 Free Expenses Spreadsheet
YouTube Video
Our FREE Expenses Spreadsheet in Excel is great for recording your business or personal expenses.
This FREE Expenses Spreadsheet is based on our YouTube presentation
Expenses in Excel - Tutorial - [Create it in just 12 minutes]
where we create 'from scratch' an Expenses form using Excel.
This expenses form using an Excel spreadsheet template should be ideal for you.
Easy to use this worksheet lets you change your expenses types and once completed the template can be used for weekly, monthly or even yearly expenses.