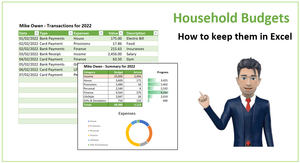 Free Household Budgets Spreadsheet
YouTube Video
Our FREE Household Budgets Spreadsheet shows you how to create a SIMPLE template to manage your Home Finances.
This FREE Household Budgets Spreadsheet is based on our YouTube presentation
How to keep Household Budgets using an Excel Spreadsheet - [create your own Template]
where,  I create a HOUSEHOLD Budgets spreadsheet in easy STEP by STEP stages.
l design a Transaction Listing table and an Income and Expenditure Summary schedule that will combine to give you a complete picture of your household finances.
The finished template uses many Excel functions commands and techniques.
I will use DropDown boxes,
employ the SUMIF command,
use DATA VALIDATIONS,
apply CONDITIONAL FORMATTING
and introduce CHARTING Techniques
All of which are explained in in the presentation.