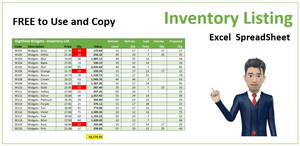 Free Inventory Listing Spreadsheet
YouTube Video
Our FREE Inventory Listing Spreadsheet is great for recording your small business inventory in terms of Quantity, Valuation and Re-Order requirements.
This FREE Accounting Spreadsheet is based on our YouTube presentation
How to design an Inventory Listing spreadsheet in Excel
where we design a simple Inventory Listing Spreadsheet using Excel.
 If you need to keep a Listing and Valuation of your Inventory and want to track re-order levels, then this simple Excel Spreadsheet may be just what you are looking for.
The completed template can be adapted and expanded to meet your individual requirements.

In the design, I will make use of Excels IF Statements and employ the IFERROR command to correct formulae.
I also make use of the powerful Conditional Formatting Tool.
SHOW LESS