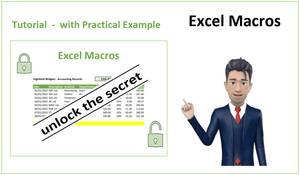 Free Template - Learn Excel Macros - With a Practical Example - Parts 1 to 3
YouTube Video
Our FREE Template  - Learn Excel Macros with a Practical Example - Parts 1 to 3
This FREE Excel Macros Spreadsheet is based on our YouTube presentations
Part 2 - https://youtu.be/U03ev9P1nY0
Part 3 - https://youtu.be/AgEv4BdGxQ0
where we design a simple 10 Step Macro using Excel.

Take your Excel skills to a NEW level !!!
Learn Macros at your own pace by creating a simple 10 step macro routine.
These FREE templates will create a useful Accounting Records Table that we will update automatically using a Macro that transfers data from a Data Entry Form and updates the Accounting Records Table at the Click of a Button.
As we move through the presentation we help you Identify the series of Actions or Commands that we need to automate. The template has been carefully crafted to allow you to both visualize and complete each step.
By the time we finish, I guarantee that you wonder why you never used Macros before.