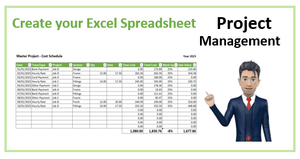 Free Project Management Spreadsheet Template
YouTube Video
Our FREE Project Management Spreadsheet is based on our YouTube presentation  
Project Management Spreadsheet Tutorial - Create in just 12 minutes
where we design a Project Management Template using an Excel Spreadsheet
How do I successfully create my own Project Management spreadsheet template. 
Are you about to start a NEW PROJECT, but,
Are you uncertain about how to record and manage the PROJECT data.
Well, in this short video I will create a PROJECT MANAGEMENT spreadsheet template that will allow to both record and analyze your project data.
Just follow the simple step by step routines as demonstrated in this tutorial.
During the presentation I will make use of various Excel functions such as Naming Ranges, incorporating drop down boxes, using a simple IF statement and employing the SUBTOTAL command.
The final Template can be modified to suit your individual requirements