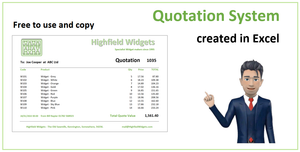 Free Quotation System Spreadsheet - Ideal for Small Businesses
YouTube Video
Our FREE Quotation System Spreadsheet shows you how to create an easy to use professional template to automate Business Quotes.
This FREE Quotation System Spreadsheet is based on our YouTube presentation
How to create a Quotation System using an Excel spreadsheet - [create your own Template]
In this short presentation we will create a QUOTATION SYSTEM using an Excel spreadsheet that includes a Customer and a Products or Services database.
The completed template is easy to use and can be either printed or saved as a pdf for you to email to your potential customers.
The finished template uses many Excel functions commands and techniques.
we will Insert Graphics and Text Boxes,
we NAME Ranges,
we create a NESTED formula combining the CONCATENATE and XLOOKUP functions
and we FORMAT the final template for Printing and email.
All of these techniques are explained in in the presentation.