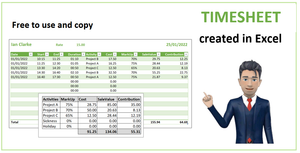 Free Timesheet Spreadsheet
YouTube Video
Our FREE Timesheet Spreadsheet is an easy way to record your business or personal work schedules.
This FREE Timesheet Spreadsheet is based on our YouTube presentation
Create a TIMESHEET Template using an Excel Spreadsheet - [ 15 Minute Tutorial ]
where we create 'from scratch' our Timesheet using Excel.
The Timesheet has been designed to include not only your work schedule, but also take account of Project Mark Ups, Sales Value and Profitability.
The completed template is easy to use and can be easily adapted to suit your business or personal requirements.
The completed template uses many Excel functions, commands and techniques.
We will examine Excel's TIME formats and Time Multiples.
We NAME Ranges, and use the Table Creation Tool,
We create and use Drop Down Boxes,
We employ the SUMIF and the XLOOKUP functions and
We use IF Statements to correct potential errors,
All of which are explained in in the presentation.