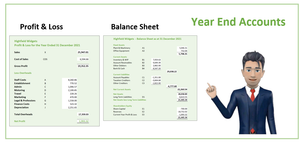 Free Year End Accounts Spreadsheet
YouTube Video
Do you want to create your Year End Accounts using an Excel Spreadsheet ?
Are you not sure about what goes where and what format should you use ?
This FREE Year End Accounts Spreadsheet is based on our YouTube presentation
Year End Accounts - Created in Excel [Tutorial for 2021]
where we create an accounting spreadsheet from scratch using Excel. 
Building up from a csv download of your General Ledger balances, this spreadsheet shows you how to accumulate balances using the SUMIF Command to create a standard format Profit & Loss and Balance Sheet.